Skiing and Snowboarding in New Zealand
While not boasting the mega-resorts of the US or Europe, New Zealand offers you a unique skiing or boarding experience. Immense views, renowned hospitality, world class facilities, terrain from beginners to just downright extreme, and often you'll have the run to yourself.
New Zealand has 12 public ski resorts along with another dozen areas operated by private clubs, and one nordic ski area (Waiorau). All but two are located on the South Island. The two North Island resorts (Whakapapa and Turoa) are New Zealand's largest ski areas, located in the center of the island on Mount Ruapehu, an active volcano.
Most Active Adventures New Zealand trips pass through Queenstown at some stage and it's here that the majority of snow fields in the South Island operate from. The two closest to town are Coronet Peak and The Remarkables. Within an easy drive you also have access to the Cardrona ski field, and Treble Cone a little further away on the other side of Wanaka.
Winter Temperatures
Winter on the Southern Hemisphere is from June to August so the ski season generally runs from mid June through the end of September. The ski area temps range from 0ºC to 10ºC (32º to 50ºF) but may get lower than this, so sweaters and warm, waterproof jackets are essential items to have with you at all times.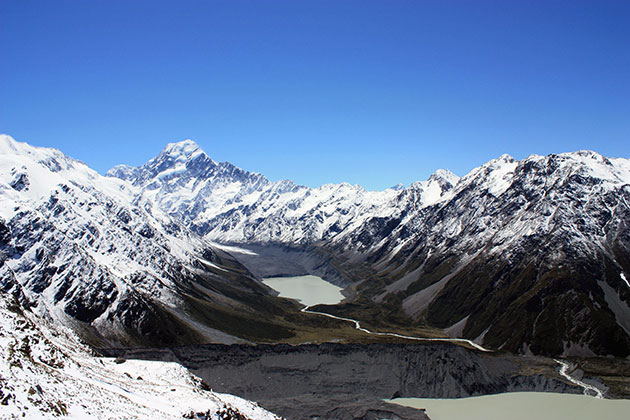 Haven't tried skiing or snowboarding yet?
Check out our guide for the novices on the slopes! Choose between:
The Ski Fields
For more information about the different ski fields available in New Zealand, have a look down through this list and click the name of any place you'd like more information about.
Ski Lessons, Ski Schools and Instructor training
All of the main resorts have comprehensive ski schools to cater for all ages and abilities from toddlers to ski racers. Lessons can be taken individually, as a group, and often as part of a multi-day program, or longer 'ski camp'. There are also opportunties to train as an instructor, or even as a ski patroller. SITCo, based in Queenstown, offer instructor courses and Tau Poutini Polytechnic in Wanaka offer ski patrol courses.
New Zealand Winter Adventure -

Winter Rimu

14 Days  | 

South Island  | 

US$4599 + tax

What's The Rush?

I'm not a triathlete, but I'm in decent shape and I'm not looking to experience a place just through a bus window. I'm happy to slow down on the trail, soak it in and breathe in the fresh air.

Leg Stretcher

Sure, I own some hiking boots, they're even worn in, but they don't go on long trips. I like my creature comforts and I like to give a range of activities a go.

Earn Your Lunch

I stay active on vacation so that I can eat and drink what I like without feeling guilty. I season my trips with a little fresh exercise.

Challenge Accepted

I'll let my trusty guides sweat the small things, so I can focus on my goal. Getting to the top, reaching the end, achieving my dreams! Sure, it'll be tough, but the views will be worth it.

The Ultimate

I've put in the hard yards and now I get to reap the rewards. I'm a seasoned adventurer, not afraid to get my boots wet.

Visit New Zealand from May to September to hike quiet trails under crisp blue skies. You'll be surrounded by stunning snow-clad mountains on this multi-sport adventure.