Packing list for a day hike in New Zealand
You're off on a day hike, up Ben Lomond in Queenstown.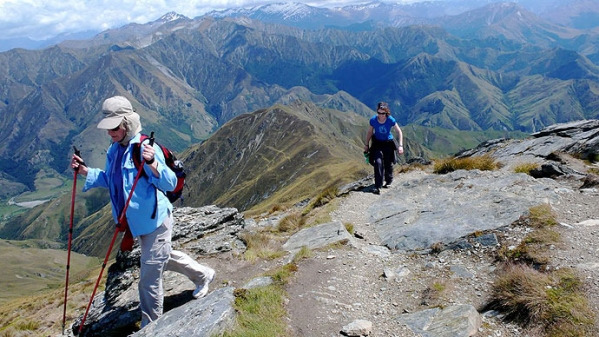 Things to consider – And I've answered each for this example!
How long does this hike take on average? 5-7 hours
Is there any altitude gain? Yes: 4,686ft or 1428m
What is the weather forecast? Well, it's spring, so the conditions are changeable. Forecast is for high cloud and a light breeze with a temperature of 60F or 16C down in Queenstown. We can safely say it will be colder up top as the wind will be stronger!
Will there be running drinking water at hand? No
Are you going by yourself? Yes
Would you classify it as remote (is there likely to be other hikers, or mobile reception?) Yes, probably to both.
So what to pack? And bear in mind, on that sliding scale I'd classify myself as a fairly organized packer!
Day Pack: Probably the most essential piece of equipment – you're not exactly going to carry everything in a green supermarket bag. Unless of course you're a full-on minimalist!
What comes next, in terms of importance is debatable. My Dad, ever the wise one, would say a rain jacket. I'd be more inclined to say a water bottle or even a charged mobile phone (different generation!)
Water bottle: There isn't much I can say about this, except, that if you care about the environment, don't buy a pump bottle, but get something you can reuse for the rest of your life. If it has a loop in it that will help too, for securing on the outside of your pack, if you like things dangling off.
Charged Mobile Phone: Some would scoff at this. But for most day trips, you'll likely be within mobile reception. You will appreciate this advice if you happen to end up in strife. For those that are into gadgets, you could take it one step further and get a personal locator beacon. These are quickly gaining popularity as they become affordable to the masses. I would probably be more inclined to purchase one of these for a long, remote hiking trip. They come in many shapes and sizes and operate using GPS. Definitely something to keep in mind.
Rain Jacket: No matter what the weather looks like out of your kitchen window, as you're cooking a hearty meal of bacon and eggs to get you up that mountain, PACK A RAIN JACKET! This cannot be stressed enough. 9 times out of 10, it will stay squashed at the bottom of your pack. It's not like you're being asked to pack a brick though. For the purposes of this day trip, I won't go into specifications – just get one that keeps you dry.
And now in no particular order…
Personal First Aid Kit: I'm guilty of not packing one of these nearly every time. But I don't want to be responsible to your spouse, parent or sibling when they complain that you ripped your new shirt for a sling. In this I would include any personal medication, sun block and insect repellent, if necessary.
Packed lunch: High-energy and nutritious are the key words. The supermarkets and health stores and even outdoors shops are packed with this stuff now. Don't be afraid to be traditional with a banana, chocolate and muesli bars. I know I would.
Camera: So that you don't have to climb that damn mountain again. Or maybe so you can impress your friends and family. Or even, in the unlikely event that you just want to put some nice photos on your fridge. Make sure it's charged. I once used a camera to take a photo of a cave far below in the valley knowing that it would be dark by the time we reached the general area. We then used the LCD screen to find our bivouac sack (also known as a bivy, bivvy, or bivi) for the night. Again, if you want to get techy, you could also bring a video camera – like a GoPro…
Bearing in mind you only have a day pack, that's probably the extent of it. You may also want to consider a beanie and/or cap, gloves and sunglasses.
On your body, you'll have some decent hiking boots or hiking shoes, potentially some gaiters, shorts or zip-off pants and at least a couple of top layers. I also sometimes use hiking poles, although not normally for a day hike.