Bungy Jumping
Queenstown, the home of 1,2,3...Bungy!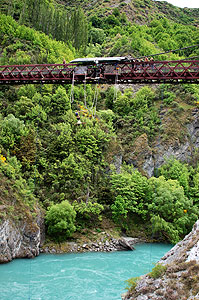 Queenstown IS the capital of modern Bungy Jumping, there's no doubt about that. You can't really come all the way to Queenstown without making a visit to the 'K bridge' (the old bridge that crosses the Kawarau river), which in 1988 became the site of the world's first commercial bungy operation, AJ Hackett Bungy. It's only 43 metres (141 ft) tall, but it's an almighty thrill jumping down towards (or even into) those green waters. Over the last 20+ years AJ Hackett together with his business partner Henry Van Asch have become very successful entrepreneurs growing their bungy business into a global empire. The company now has other operations in New Zealand, Australia, Bali, Macau, Germany, France and one soon to be in Russia!
Bungy Origins
The word 'bungy' as used by AJ Hackett is Kiwi slang for an elastic strap, but the word 'bungee' is much older and originates from the West Country dialect of the English language and means anything 'thick and squat', but by the 1930s tended to mean 'eraser'. You may be wondering where this is going, but actually long before baby boomers were seeking their thrills, young men in Vanuatu were jumping off wooden towers 20-30metres (66-98ft) high with two tree vines wrapped around their ankles! Land diving, as it is known, started with the legend of a woman who was dissatisfied with her husband, Tamalie. It is sometimes claimed that the woman was upset that her husband was too vigorous regarding his sexual wants, so she trekked away into the forest. Her husband began hiking after her, so she climbed a banyan tree. Tamalie climbed after her, and so she tied lianas to her ankles and jumped and survived. Her husband jumped after her, but did not tie lianas to himself, which caused him to plummet and die. The men performed the original land diving so that they would not be tricked again.
New Zealand pioneers
Recently a film called Last Paradise was released here in New Zealand that documents a group of maverick young kids growing up in the remote wilderness of NZ pioneering extreme sports like Bungy Jumping, snowboarding and surfing. AJ Hackett features on this film along with many other legends of his time. This film, that uses original footage collected over 45 years has won numerous awards already including:
WINNER: Best Eco-Adventure, XDance USA, 2010.
WINNER: Most Popular NZ Film, NZ International Film Festival, 2010.
BEST OF BANFF:  Banff Film Festival, Canada, 2010.
Of course as the popularity of bungy jumping blossomed, other adventure companies sprouted up around town and the world, but Queenstown had that pioneering advantage as well as the perfect backdrop, which is how it quickly became known as the adventure capital of the world. Today bungy jumping, sky diving, canyon swinging, paragliding, river boarding, kayaking wakeboarding, snowboarding, skiing, mountain biking, jet boating, sailing, and horse riding are among the long list of adventure activities that Queenstown offers.
With any extreme sport the challenge is to push oneself to the limits and bungy jumping is no exception. AJ Hackett built the world's highest bungy (233metres / 764ft) in Macau which opened in 2005, but even that has been eclipsed by a jump on the Royal Gorge Bridge in Colorado which is 371metres / 1,053ft, but it's only used during the Go Fast Games every couple of years. Finding a structure suitable for such a high bungy is challenging so these days some people just secure a bungy to the bottom of a helicopter and jump off that, at any height they like!