About New Zealand
New Zealand ain't no ordinary place! We're a small nation in the South Pacific, with a population of about four and a half million people. New Zealand is largely made up of the cleverly named North Island (which is in the north, just north of the South Island), and the South Island, which is located – you guessed it – in the south. We're not in Australia, although we're not too far away. Australia is a huge country, about the size of the United States, about 1600 kilometres (1000 miles) to the west of us.
Geologically, New Zealand is perched on the 'Pacific Rim of Fire' – the junction between two major tectonic plates. This means that, like Japan and California, New Zealand is prone to earthquakes and other significant geological activity, and it gives the country an extraordinary geographic diversity. The Southern Alps is a massive mountain range, which neatly bifurcates the entire South Island. The North Island, while less mountainous, is home to hundreds of volcanoes - many of which are still active.
New Zealand manages to be both a small country in terms of square mileage, and pretty spread out in terms of straight line distances, which means there's a great deal to do and see! You can happily spend a lot of time here, checking out all the sights and doing everything there is to do. Both the North Island and the South Island are each about 800 kilometres (500 miles) long, so the entire country stretches for about 1600 kilometres (1000 miles). The country is characterised by mountains, glaciers, rainforest (sometimes glaciers and rainforest in the same place!), lakes, farmland, and above all, a huge coastline. For the outdoor enthusiast, keen on hiking, biking and paddling, amongst other activities, New Zealand is a truly wonderful place to live – and, of course, to visit.
Wondering when to come 'downunder'? Skip straight to our best time to visit NZ page here.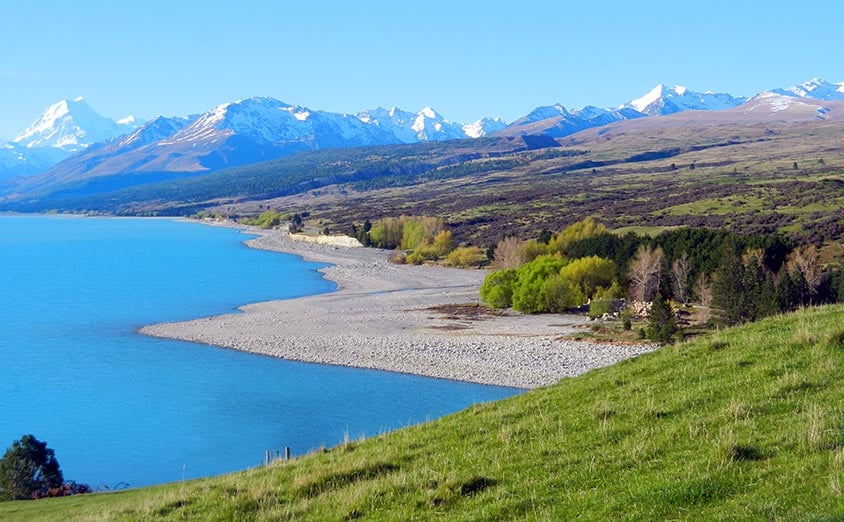 Why travel with Active Adventures?
Above all, we aim to be amazing hosts. We're proud of our kiwi roots, and our professional, warm and relaxed style of running trips around the world is unforgettable.
We're VERY picky about who we select to work in our team, and we have people from all over the world lining up to guide our trips. So we get to hire the absolute BEST in the business.
As soon as you get off the plane, we've got all the details of your vacation covered – top notch meals, comfortable transport & accommodation, amazing guides and INCREDIBLE service.
Whether you're new to adventure travel, or you've never travelled in a group before, you'll find yourself arriving home positively different from when you left.
With our small groups (no more than 14), you'll get to know our team, your fellow travellers, and have the flexibility and freedom to do as much (or as little!) as you like.
It's all about getting there under your own steam – on foot, in a sea kayak, or by bike. What better way is there to experience mind blowing scenery? If it's your first time, no worries – our expert guides have got you covered.