Environmentalism
If you like, you can download and view our Active Adventures Environmental Vision here. 
New Zealand is renowned for being clean, green and 100% Pure and as Kiwis we're proud to live in such a beautiful place and privileged to be able to share our diverse landscapes with visitors from around the world. The wildlife, the land and the people who live here have a truly unique story – all of which we want you to experience. But we don't just want to show you all the places we love, we want to help conserve and enhance them for generations to come. In order for us to do this, we first need to ensure we operate in a sustainable way.
Since 1996 we've been actively exploring and experiencing New Zealand's wild corners on our signature small group adventures. We're the most established NZ adventure tour operator with a range of concessions that allow us to operate in unique areas. These concessions are granted by the Department of Conservation 'DOC', New Zealand's Governmental body responsible for keeping our natural environment healthy (a responsibility that is in fact a role for all New Zealanders and visitors alike!) We're also a member of Qualmark, New Zealand Tourism's official quality assurance organisation. Adhering to the requirements of both DOC and Qualmark is a responsibility that we take very seriously, ensuring we continue to run high quality trips with minimum impact upon the environment. 
We hope that the information below will help you to understand the role that we all play, as residents and visitors alike, in conserving our natural environment.
Flying here
OK, the bad news first. Getting to New Zealand from the west coast of the USA, for example, consumes about 300 litres of aviation fuel and produces 700 kilogrammes of carbon dioxide per person (depending on what type of aircraft and how many passengers it's carrying). In itself, that's not the end of the world. It's about the same as driving an SUV around town for a week. But we do think it's worth doing a few things to counteract the damage. Opting in to your airline's carbon offset programme is a good start, as is flying with an airline that's investing in renewable fuels (Air New Zealand for instance). But we reckon the best thing you can do is to take it as motivation to change your lifestyle in the weeks leading up to your trip – bike or walk to work and you'll easily offset the flight's emissions and oil consumption, plus you'll be super-fit for the trip!
Getting around
Active Adventures trips usually travel around the countryside in small Toyota coaster buses. These run a 4.2L 24v turbo diesel engine (actually it's the same engine that's used in a popular SUV) which is about as efficient as it gets for a bus. The exact fuel consumption varies but we figure it must be about a tenth the amount of fuel and carbon as if everyone drove their own cars around the countryside. We'd be a little more efficient per person if we drove bigger buses, but those bigger groups would have more of a negative impact when it came time to go hiking. We figure the coasters are the best balance between economics, environmental impact and social dynamics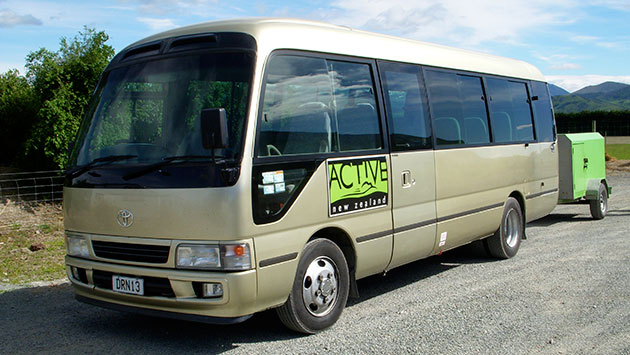 Travelling in wilderness areas
When we travel into wilderness areas we aim to live by the age old motto of 'take only photos and leave only footprints'. We stay on marked trails to avoid unnecessary impact on sensitive flora and if we need to camp, we only use specially designated areas. All of our rubbish and food scraps are also taken with us and disposed of appropriately when we're back in civilisation. Our guides promote New Zealand conservation by giving you a better understanding of the work that goes on behind the scenes to protect the flora and fauna you'll see and hear along the trail.
Some parts of our trips are entirely human powered. On various different trips we explore Nelson Lakes National Park by foot, Marlborough Sounds by bike and Milford Sound by kayak, which helps the environment and your waistline and makes for an awesome trip!
Choice of suppliers
We choose to stay with independently owned hotels and lodges wherever we can. The people who own these accommodations live in the towns where their businesses operate, so they are naturally more motivated to look after the place and do the right thing. We also put a great deal of effort into the partnerships that we develop with suppliers across the country, to ensure we're working with like-minded companies that share our views on sustaining the environment. Some examples include:
Kiwi Bildlife Park – Visited on our 'Kiwi' trip, the Kiwi Birdlife Park are dedicated to the conservation of native New Zealand wildlife. They take part in numerous national breeding programmes for our threatened species and contribute to wildlife rescue through their rehabilitation unit. The park has a huge focus on education and offers visitors to the area the chance to learn a little more about conservation in New Zealand while seeing some of our rare iconic species first-hand. For those that want to off-set their carbon footprint, you can sponsor a tree or two by contributing to the parks on-site native planting programme. Run solely on admission fees and donations all the good work being done here contributes valuable extra resources into New Zealand conservation. Kiwi Birdlife Park are a registered member of ZAA (Zoo and Aquarium Association) and work closely with our Department of Conservation.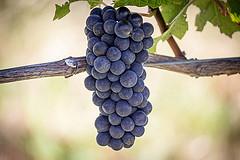 Forrest Estate Winery – Pioneers within the fledgling Marlborough Wine Industry, owners John and Brigid give back to the community by running a local bike ride called 'The Forrest Graperide' which attracts over 2500 cyclists, by supporting the Taupo Cycle Challenge and the Forrest Estate Winery Marlborough Tennis Centre. On the green front, Forrest are certified as a sustainable wine grower and are active in researching and implementing bio-diverse techniques to minimise the need for chemicals.
Whale Watch Kaikoura – Designed especially for whale watching, their modern catamarans are equipped with engines that minimise underwater noise and toilets that never pollute the sea. Whale Watch Kaikoura also contributes financially to research conducted in the Kaikoura area on whales, dolphins and seals and they are staunch allies of the marine conservation movement, particularly the ongoing international fight to protect whales from commercial fishing.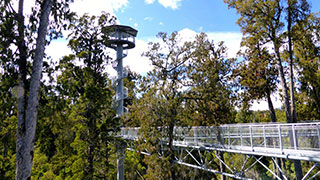 West Coast Treetop Walk – This walkway, which rises 20 metres to the top of ancient rimu and kamahi trees at Mahinapua (15 kilometres south of Hokitika) is New Zealand's first of its kind and allows visitors a chance to engage with the forest in a unique way and learn all about the regional biodiversity, such as the swans and ducks common to Lake Mahinapua and the surrounding podocarp and hardwood forest species.
Water
We're very lucky in terms of water in New Zealand. Our mountain ranges and maritime climate means we have a relatively large supply of rainwater and our small population means there's a fairly reliable demand. Even so, some areas of the country are not immune to drought and in the height of summer it is common to have town or city-wide water restrictions, to ensure there's enough to go around.
We're keen to maintain our clean, green image and our abundance of fresh water streams are under constant threat from introduced species, farm and human pollution. This is why you may experience particularly fervent border control staff when you arrive here! As long as you declare all food and let them know if you've been in contact with any rural areas or carry any sporting goods, you should be fine.
Electricity
New Zealand's consumer electricity currently comes from either wind- or hydro-power. Hydro-power has traditionally been the main source, but not without controversy with some devastating effects on our freshwater systems. Wind-power is generally accepted as the best solution moving forward and is only frowned upon by those who feel there is visual pollution. Either way, we can all do our part by minimising our demand and thus discouraging the power companies from increasing their capacity – you've all heard the statistics about what a nation would save if we all switched off one extra light bulb per day – about $320 million a year here in NZ!
Food
We always shop for fresh, locally produced food that's had less processing and comes in less packaging. Our guides generally do a couple of shops on the road in towns like Hokitika and Queenstown, which puts money back into the communities we travel through.
Recycling
The South Island of New Zealand is a big place with a small population – that's one of the reasons it's cool to see, but the downside is that many towns aren't big enough to produce the economies of scale needed for a decent recycling programme. Whereas the main cities can recycle materials like plastic or paper, in small, remote towns it's just not a goer, yet. To get around this we try to minimise all waste and the quantity of recycled materials and packaging and we'll transport our recycling to the next big town wherever possible. We ensure that there is plenty of fresh water on each coach too, so that you don't have to go out and buy 'throw-away' plastic water bottles.
Printed material
Historically most of our customers have wanted to receive a physical brochure before booking a trip with us, so we're quite reliant on printed material. Recently it's become possible for us to create our brochures and itineraries using sustainable and recyclable silk wood grown locally. With the introduction and growing popularity of iPads and Kindles we're working on ways to publish more digitally. If you prefer emails and digital documents over old-school mail, please just let us know.
The upshot of it all
New Zealand, like most modern countries has an ongoing conservation debate. Different parts of the community would like to see our national parks either locked up as pure wilderness or dug up as mines. We believe that sensible tourism is the best compromise; through our collective actions we can ensure that our 'backyard' is a wonderful place to explore and marvel at for generations to come. Not only can we do our best to conserve our natural habitat but we can help to enhance it, by reintroducing native species. There's nothing quite like walking through one of New Zealand's original stands of native bush whilst the birds share their morning cacophony!