Manuka Tree (Leptospermum scoparium)
Tea Tree
The manuka or 'tea tree' is a common small tree or shrub found around New Zealand, particularly in drier areas where it is generally the dominant shrubland plant. The manuka plant is related to the Australian 'tea tree' (melaleuca) and both have many medicinal uses. The plants became known as tea tree because early pioneers used it to make a tea, although it would be safe to say that flavour isn't one of manuka tea's strong points! Manuka sawdust, however, is used for smoking fish and meats to impart a delicious flavour.
New Zealand Manuka Honey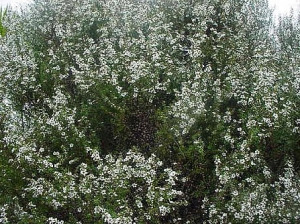 Manuka honey is highly prized not only for its distinctive strong taste but it has been shown to have extraordinary anti-bacterial and anti-fungal properties. It is often used topically to help heal boils, burns, cuts and even acne as well as soothe sore throats when taken either by the spoonful or in freshly brewed lemon, manuka honey and ginger tea. If you're buying manuka honey for its healing properties, look for a seal certifying the highest "Unique Manuka Factor" (UMF) you can find, or afford. UMF is still being studied, but its amazing healing properties is said to be due to a unique ingredient only found in New Zealand manuka honey and its health benefits haven't been duplicated by any other type of honey or natural remedy. 
Where to find the Manuka Tree
The Manuka, our New Zealand hiking tour, was named after this plant that grows prolifically just north of the township of Te Anau, on the drier eastern edge of Fiordland National Park. The manuka plant can be seen on most of our South Island adventure tours that explore Milford Sound. Look for an evergreen shrub that grows up to 5m (16 feet) high and has small spiky leaves and very dark branches. The plant has pretty white flowers (sometimes pink) and it's commonly confused with its close relative, kanuka, which has softer leaves and grows taller.