Tui (Prosthemadera novaeseelandiae)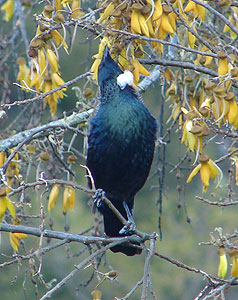 The tui is one of our favourite endemic (only found here) birds of New Zealand. In fact, we love it so much that we named one of our trips after it! They are very attractive bird, about 30 cm (12 inches) long with dark plumage, which from a distance or in dim light appears plain black, but close up it is a glossy iridescent multi-coloured green, blue, copper, and violet. It also has two distinctive white plumes on the lower throat and white patches under the wings.
                                                          
You don't have to be a keen bird-watcher to see a tui in New Zealand - you might see a tui at any time on one of our adventure tours (including the Tui trip, of course!) because they're found around much of the forested areas of New Zealand where we go hiking, and even in some leafy suburbs. We often spot a few of them hanging around together amongst the trees in Queenstown. Often the best time to see one is first thing in the morning or at dusk when you'll hear their persistent song – they sometimes even sing at night when the moon is out! Their song is really variable, at times it's almost a disorganised shambles of beautiful notes, clicks and cackles, but because of that it's pretty distinctive. Similar to parrots (in song and intelligence), tuis will sometimes mimic other sounds, including other bush birds, especially their relative the bellbird – both birds belong to the family of honeyeaters.
Typically, they'll perch right at the top of a tree, quite often a dead one. They'll be looking for flowering flax bushes and trees, along with insects and fruit.
Their song will become a familiar sound on your journey around NZ. Also, when you arrive at Auckland airport, they play the tui birdsong to you as you make your way to the arrivals hall.
The other Tui

Not only is the Tui one of our favourite birds, it's also one of New Zealand's oldest and favourite beers! Brewed at the Wagstaff Brewery in Mangatainoka since 1889, it's a hoppy East India Pale Ale style beer enjoyed by many a happy kiwi!