You are here:
Hiking in Nelson Lakes National Park
Hiking in Nelson Lakes National Park
Nelson Lakes National Park protects 102,000 hectares of the northern most Southern Alps. The Park offers a quiet, yet dramatic experience of craggy mountains, tranquil beech forests, fields of tussock, and clear streams and lakes, both big and small. With its long forested valleys, high passes, large areas above the bush line, lakes and tarns, the landscape is both varied and well adapted to tramping. This is area is filled with long mountain ranges separated by forested valleys, which were gouged out by glaciers in the last ice age.
The climate is moderate by comparison with other areas in the Southern Alps. Many other features left from this same period remain, such as the two lakes of Rotoroa and Rotoiti after which the park is named, and where fly-fishing for brown and rainbow trout is popular.
The forests are full of birds like tomtits, robins and the tiny rifleman, New Zealand's smallest bird. South Island kaka are also present. The vegetation is predominantly beech, with the red and silver species growing in lower, warmer sites and mountain beech at higher altitudes. The bush line, where forest gives way to alpine plants is a remarkable feature of the park; the change is abrupt and uniform as if drawn with a ruler.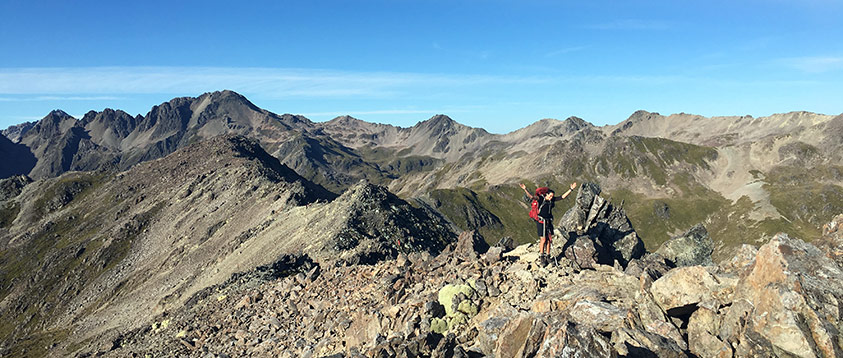 In summer the alpine fell fields teem with flowers, though typically they tend to be pale colours, white, light blue and sometimes yellow. This heavily protected native bush lets you see New Zealand as it would have been 500 years ago. Tramping tracks in the Nelson Lakes are characterized by challenging terrain and spectacular views. Nelson Lakes National Park is especially well suited for tramping as the public-use Department of Conservation Huts provide rustic, yet comfortable basic accommodation for multi-day treks. The park is also well equipped with tracks and bridges, yet offers untracked and more remote valleys for those seeking greater challenge, remoteness and wilderness.
Learn more about hiking in the Nelson Lakes National Park on our Rimu tour:
Rimu Ultimate South Island Adventure

14 Days
South Island
From US$5499 + tax

This is our signature adventure and a great, outdoorsy way to see New Zealand. We've been fine-tuning this perennial favourite since 1996 and it's simply an awesome trip. You'll explore the most beautiful, famous and little-known places in the South Island – up close and personal – with legendary hospitality and our unsurpassed attention to detail. For a great way to see the North Island too, combine this trip with our 11-day 'Kauri' (5-day 'Kauri' options available).

Activity level: The 'Rimu' is one of our more adventurous trips, but has options to suit a wide range of ages and outdoor experience. Typically, hikes on the 'Rimu' trip range between two and five hours to complete, with longer hikes available on the multi-day option. If you think you'd prefer a more relaxed pace and shorter one to three hour hikes, we recommend checking out our 'Kiwi' trip. Please get in touch with us if you'd like to chat about the various options.