Here's a handy infographic that we've created, that displays a few of the highlights through the calendar year!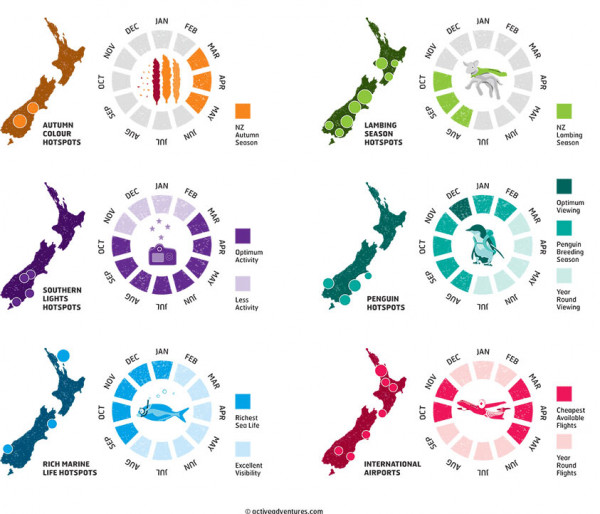 New Zealand Summer - Warm and bustling
Months: December, January, February
North Island weather: 20-24⁰C (68-75⁰F), 60-100mm of rainfall per month
South Island weather: 19-23⁰C (66-73⁰F), 35-60mm of rainfall per month
Hiking Conditions: Long, warm days. This is definitely the most popular time to hike in New Zealand!
New Zealand truly does come into its own in the summer, as an outdoor lover's paradise. Particularly between the months of December to February you'll see people at the beach, hiking in the forest or biking on our cycling trails. It's a popular time of year for getting outdoors in nature, and experiencing life at a slower pace.
December - The start of summer, warm weather and a buzz in the air leading up to the holidays. The days are reaching their longest hours, making for plenty of time to go adventuring. Always a fantastic month to visit New Zealand.
January - Warmest month, heaps going on and the festive spirit carries on from Christmas! There are lots of summer events at this time of year, with races of all shapes and sizes most weekends, as well as festivals and concerts.
February - Mid-summer and another fabulous and very popular month to visit New Zealand. Races and triathlons are held throughout the country each weekend, to take part in or just watch! Slap on the sunscreen and wear a hat.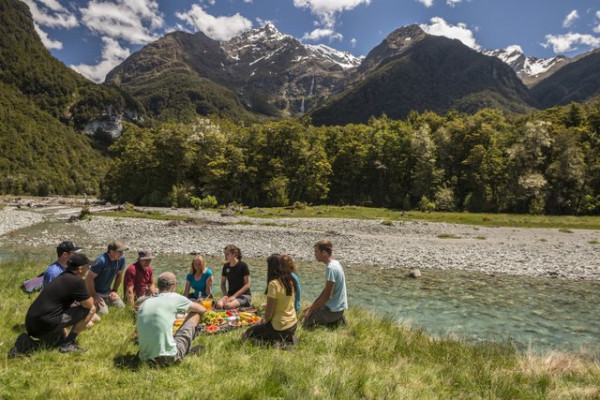 New Zealand Autumn/Fall - Perfect for Hiking
Months: March, April, May
North Island weather: 17-22⁰C (62-71⁰F), 90-130mm of rainfall per month
South Island weather: 13-19⁰C (55-66⁰F), 60-100mm of rainfall per month
Hiking Conditions: Cooler, less crowds on the trails, and very consistent weather. Incredible photography too!
If you want to escape the busiest season on the trails, then fall months are great for hiking. It's a little cooler, a little quieter, but so beautiful as the leaves on the trees change colour and the first dustings of snow arrive on the hills. As long as you've got a few layers of clothing, you're in for a treat because you will have most of the hiking trails to yourself.
March - Late-summer, warm days, summer breezes and moderate daylight hours to make the most of being outdoors. It's still common to get a few hot days in March, so covering up from the sun is still important!
April - Start of Fall/Autumn - stunning colours as the leaves change colour on the trees. Crisp, clear days and there may be a bite in the air some days so you'll need an extra layer or two, but all in all, it's a beautiful month and a great time to be here.
May - Early-winter, temperature dropping, but still some beautiful days.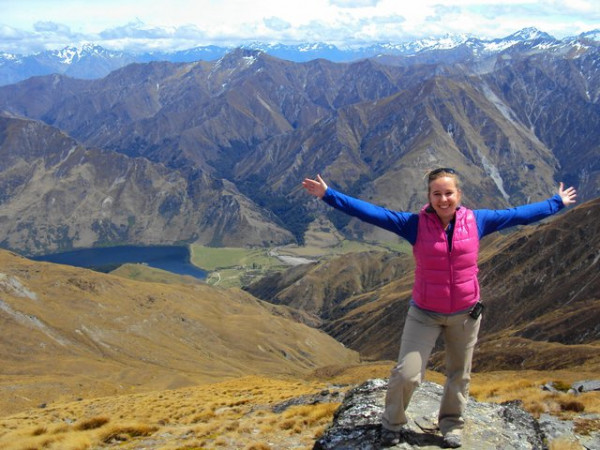 New Zealand Winter
Months: June, July, August
North Island weather: 11-15⁰C (51-59⁰F), 120-150mm of rainfall per month
South Island weather: 7-12⁰C (44-53⁰F), 70-130mm of rainfall per month
Hiking Conditions: Cool, crisp mornings with a crunch under foot. Loads of blue skies, and you'll be hiking in a tee by lunch time.
Some people don't realise how awesome New Zealand is in the winter! If you're not a skier, then it's an amazing time to come winter hiking in New Zealand – the trails are quiet and the mountains all around are snow-capped. There's even a few hot pools that you can trek to amongst the mountains. There are a number of ski areas throughout the country, but being based in Queenstown we spend most of our time at Cardrona, Treble Cone, the Remarkables, Coronet Peak, Ohau and Mount Hutt.
June - Officially the start of winter and the beginning of the wait for the first snow and the ski fields to open. It's also time for Queenstown Winter Festival, a great event held annually with plenty of activities for the whole family.
July - Winter - ski fields open and it's all go on the mountain! Powder days and being first on the slope for the early morning runs are what it's all about. At the same time, the hiking trails are even more peaceful and serene than normal, so it's an amazing time of year to hike the backcountry valley trails.
August - Winter still and probably one of the best months for snow sports.

New Zealand Spring
Months: September, October, November
North Island weather: 16-20⁰C (60-68⁰F), 90-120mm of rainfall per month
South Island weather: 13-19⁰C (55-66⁰F), 60-100mm of rainfall per month
Hiking Conditions: Warmer days, quiet trails, snow-capped mountains on a background of blue skies. Most New Zealander's favourite time of the year to get out hiking in the backcountry.
The clocks spring forward, the sun warms up and the days are longer. We all love spring! As much as we can't get enough of winter sports, we're never too sorry when the springtime sun makes an appearance. With lambs bouncing around the fields, daffodils and fruit trees blooming and the longer daylight hours, there's a definite shift in mood.
Spring is an excellent time to visit New Zealand and while November tends to be fairly quiet on the tourist front, it's certainly not a bad time to travel here. Being an adventure tour company, our season really cranks up in early November, so our guides are fresh and excited to be back on the road - we have heaps of trip dates scheduled throughout the season too.
September - Late-winter, snow sports usually still going strong, with the first blossoms starting to appear.
October - A change is in the air as spring comes around! There are warmer days and longer daylight hours, and everyone shakes off the winter cold.
November - Mid-spring, beautiful days and plenty of lambs jumping in the lush green fields. A little bit windy on occasion, but not too many tourists around.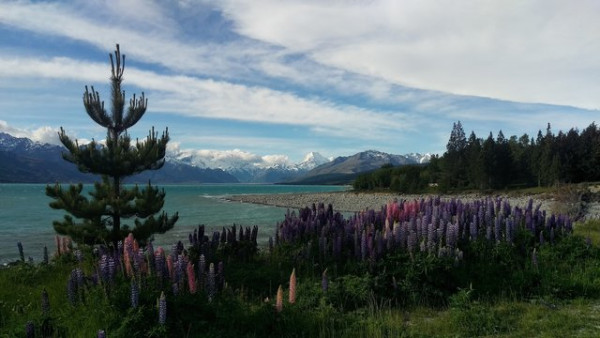 Feeling a bit more ready to plan your trip? Have a look at our popular New Zealand trips below, and find your perfect adventure!