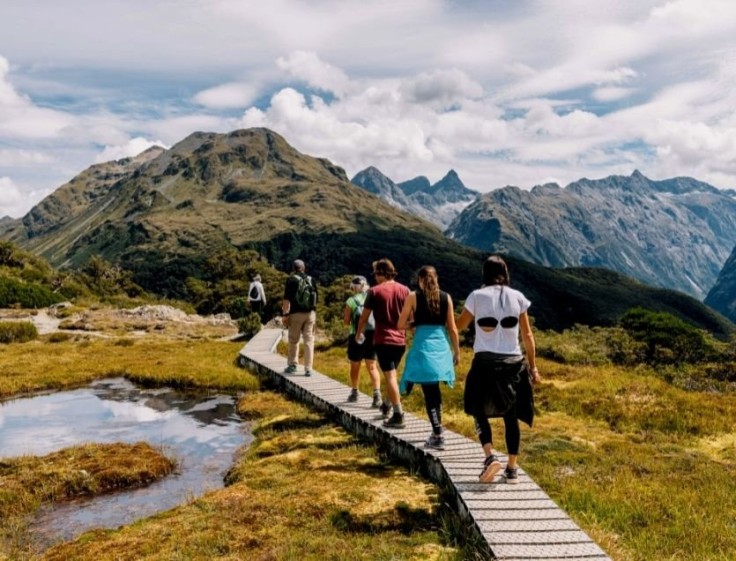 The "Great Walks" are generally regarded as New Zealand's premier multi-day hikes. They have been afforded special status in order to better regulate the numbers of hikers on the trails to enhance the experience for those people, and to eliminate or minimize overcrowding and erosion issues. The number of hikers is regulated by requiring pre-booking of beds in the backcountry huts along these tracks. During the main season, the cost for staying in these huts is considerably higher than for a normal backcountry hut, which helps subsidize the extra management required, but at the same time, the facilities are far better, with solar-powered lighting, gas stoves and flush toilets. If you're ready to tick-off some of New Zealand's most superb wilderness, check out our complete guide to the 10 Great Walks of New Zealand below.
North Island Great Walks
1. Lake Waikaremoana Track
This is one of the more gentle and quiet Great Walks. The track circumnavigates the picturesque Lake Waikaremoana over the course of 3 or 4 days, with plenty of opportunities for fishing and swimming. Don't underestimate it's beauty, though. You'll enjoy glorious lake views, pristine forest and a quietness that stops time in its tracks. Read more here.
Length: 3-4 days, 46 kilometres (28 miles)
Difficulty: Intermediate
When to go: Year-round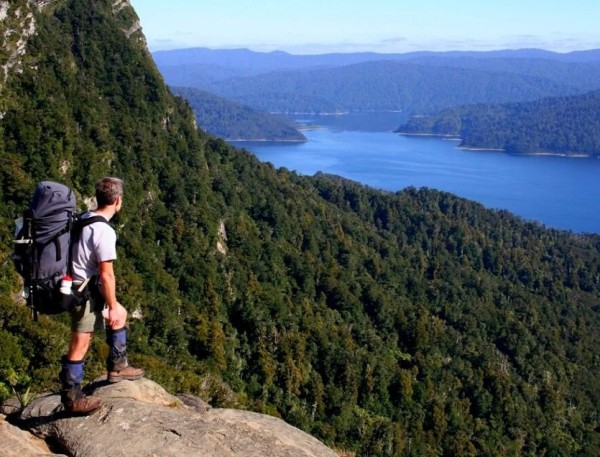 Photo byDonald van der Westhuizen/Flickr
2. Tongariro Northern Circuit
This track traverses up and around some of the most stunning volcanic scenery that New Zealand has to offer. Part of this hike is the famous Tongariro Crossing, deemed New Zealand's greatest day-hike and one of the top single-day treks in the world. Read more here.
Length: 4 days, 41 kilometres (25 miles)
Difficulty: Intermediate
When to go: Mid-October to end of April
Part of the Tongariro Northern Circuit is hiked on our 'Kauri' Ultimate North Island Adventure.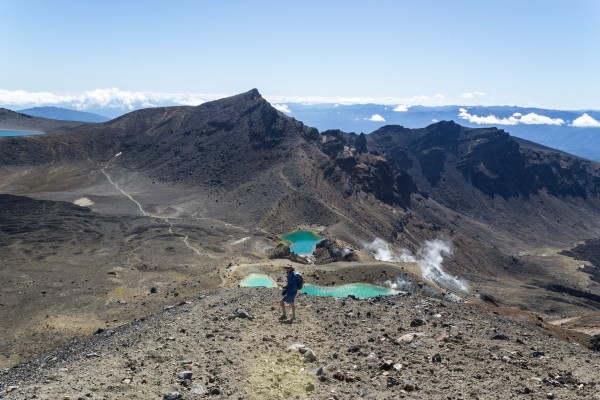 3. Whanganui Journey
This is an odd-one-out as it is actually a kayak trip - 145km down the Whanganui River, from Taumarunui to Pipiriki, which takes around 5 days, though it can be turned into a shorter 3-day trip with an exit at Pipiriki. This is an awesome adventure, visiting places only accessible by river, as it was in the early days of exploration and colonization, by both Maori and Europeans.
Length: 5 days, 145 kilometres (90 miles)
Difficulty: Intermediate
When to go: October to end of April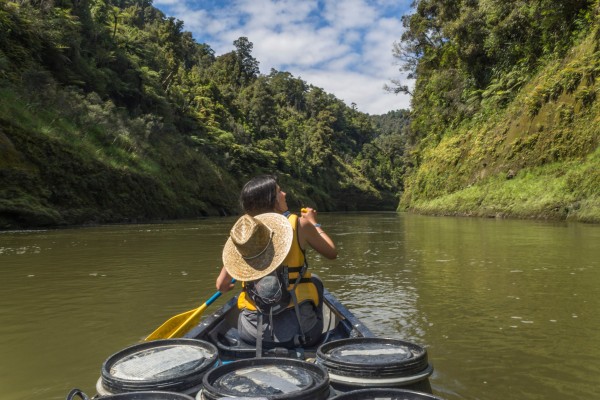 South Island Great Walks
4. The Milford Track
The Great Walk of all Great Walks. Deemed 'the finest walk in the world', it's no wonder securing yourself a spot on the trail is nearly impossible. Located in the jewel in New Zealand's hiking crown, an extremely popular 4-day track through Fiordland, from Lake Te Anau to the stunning Milford Sound. Read more here.
Length: 4 days, 53.5 kilometres (33 miles)
Difficulty: Easy
When to go: End of October to end of April
Hike the full length of the Milford Track on our 'Manuka' trip and parts of the Milford Track on our 'Takahe' trip.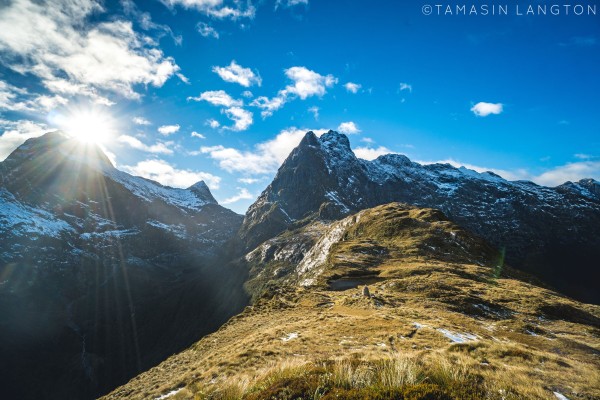 Photo by Tamasin Christina Langton Photography

5. The Routeburn Track
The Routeburn Track is a 3-day tramp between Glenorchy and The Divide, crossing through Mt Aspiring and Fiordland National parks. It's one of the most popular as it offers some great day-walk options from both ends, and the whole track, although short, bring an amazing diversity of scenery. Read more here.
Length: 3 days, 32 kilometres (20 miles)
Difficulty: Intermediate
When to go: End of October to end of April
Hike incredible parts of the Routeburn Track on our 'Takahe' trip.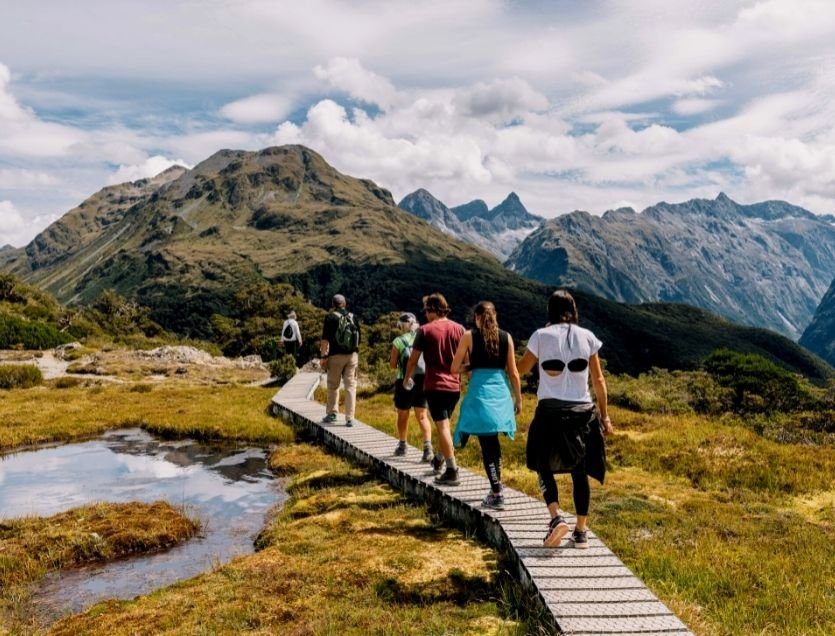 6. The Kepler Track
At 60km, it's possibly the most challenging of the Great Walks, taking 3-4 days to complete. Mossy green forests, stunning ridgelines, curious bird life and endless mountain views await your discovery on the Kepler Track. Built for the sole purpose of showcasing the best of Fiordland, you know you're in for a spectacle! Read more about the Kepler Track here.
Length: 3-4 days, 60 kilometres (37 miles)
Difficulty: Intermediate
When to go: End of October to end of April
Hike stunning parts of the Kepler Track on our 'Takahe' trip.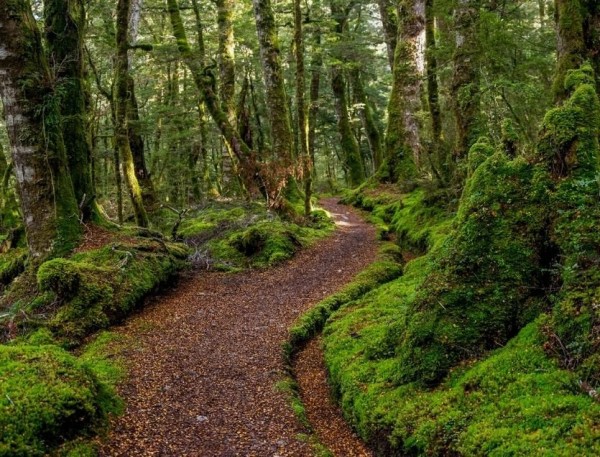 7. The Abel Tasman Coastal Track
This is one of the most popular tramps for visitors to the country as it runs along the coastline of the sunniest part of the South Island, featuring some stunning beaches of golden sand and crystal-clear water. Read more about the Abel Tasman Coastal Track here.
Length: 5 days, 51 kilometres (31 miles)
Difficulty: Easy
When to go: Year-round
Hike parts of the Abel Tasman Coastal Track on our 'Kiwi' trip.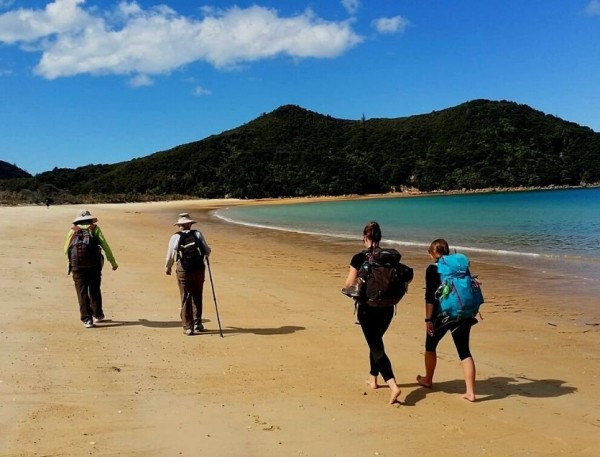 This is another hike in the northern South Island and at 79km (4-6 days) is the longest of the Great Walks, with some of the most diverse scenery, from the forests of the Kahurangi National Park to scenic West Coast beaches. It is also unique in that it is open to mountain bikers during the Winter Season. Read more about the Heaphy Track here.
Length: 4-6 days, 78.4 kilometres (48 miles)
Difficulty: Intermediate
When to go: Year-round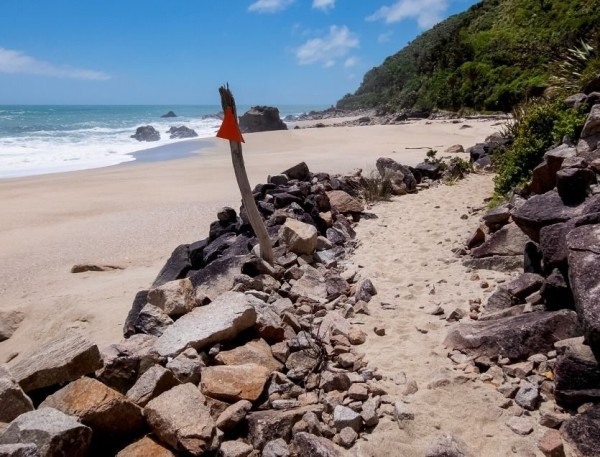 Photo by BenLevyPhotography/Getty Images
9. The Paparoa Track
Hike or bike New Zealand's newest Great Walk on a journey through the Paparoa Ranges. On your walk you'll go through spectacular limestone landscapes, alpine tops and lush rainforests in the remote wilderness of this lesser-known area of the West Coast. Read more here.
Length: 2-3 days (hiking) or 1-2 days (biking), 56 kilometres (34 miles)
Difficulty: Intermediate
When to go: Year-round
Stunning parts of the Paparoa Track are hiked on our 'Kiwi' New Zealand Explorer trip.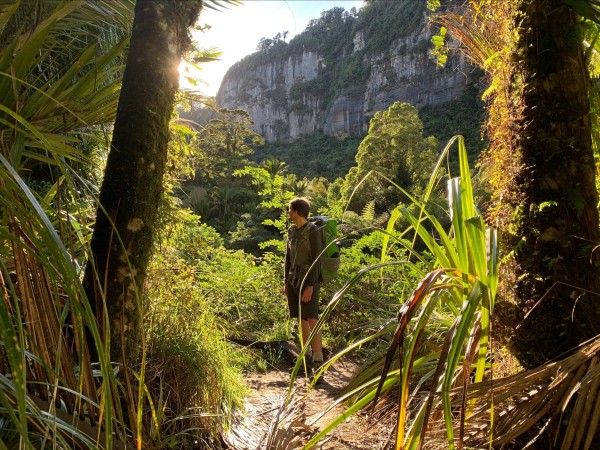 Stewart Island
10. The Rakiura Track
This is a 3 day, 32km track with a great mix of beach and forest scenery on Stewart Island, located 30 kilometres South of Bluff. It's a protected Dark Sky Sanctuary (you can even spot the Southern Lights in Winter!) as well as a haven for rare bird life, especially kiwis. Read more here.
Length: 3 days, 32 kilometres (20 miles)
Difficulty: Intermediate
When to go: Year-round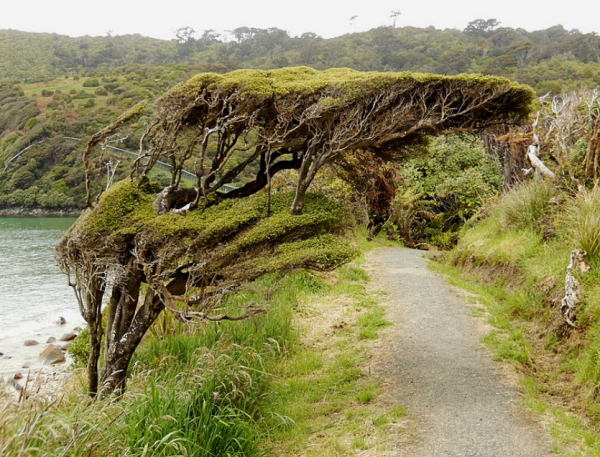 Photo by AlasdairW/Wikimedia Commons
If these Great Walks sound like your cup of tea then our Manuka trip is the ultimate choice – as part of the two week tour of the South Island, you're able to customise days seven to eleven. You can either choose to hike the entire Milford Track and then rest your legs with a cruise on Milford Sound or take on our Great Walks Discovery, hiking sections of the Milford, Routeburn and Kepler Tracks before finishing with a wilderness cruise in Doubtful Sound.
Best time to hike New Zealand's Great Walks
As you can see above, each Great Walk has its own opening and closing date, that can vary slightly each year. The highest sections of the most alpine ones, like Milford, Kepler and Routeburn tracks as well as the Tongariro Circuit, will be covered in snow from May to October, so only experienced trampers should attempt these off-season. When we say experienced, we're talking ice axe, crampons and good route-finding skills, as the track can often totally disappear...
The other Great Walks are open year-round to bookings, but with lower prices in winter. Even though December to February are the most popular months to walk the Great Walks, early fall and late spring offer the advantage of quieter trails, and awesome colors.
What do you need to pack for a Great Walk?
It's hard to answer that question with a single answer, as the content of your bag will be greatly influenced by the weather and precipitations you're expecting. But as a general rule, these items constitute a great start:
A good quality 50L hiking backpack
A pack liner
Good quality hiking boots
Hiking poles
Walking sandals or hut slippers
A warm light-weight sleeping bag (there are mattresses in the huts, but nothing else)
A rain jacket and rain pants
Quick-dry, breathable clothing (zip-off pants are some of our favourite and protect our ankles against sandflies)
Thermals
Light gloves and beanie
Sun hat
Warm top / puffer jacket (Kiwi's favourite clothing item!)
A travel towel
Camping stove, lighter and pots
A first aid kit
Essential toiletries (there are no showers on these trails, so usually a toothbrush, toothpaste and hand sanitizer are pretty much what you need... avoid 'sweet' smelling body care products, as sandflies absolutely love them. Speaking of which... NEVER forget to bring sandfly repellent!)
A pocket-knife
A camera
Of course the list will change according to which track you're aiming to walk, but these items are our usual go-to: you can't go wrong with those!
How to book the Great Walks
Going solo
If you opt to go self-guided, you'll have to book through the Department of Conservation (DOC) website well ahead. Bookings open in June for the upcoming season, so you'll have to make sure you book your Great Walk accommodation (the mountain huts) far enough ahead of time as they do sell out, sometimes in a few hours/days. Some Great Walks also have camping options, but they fill out quite quick as well. Make sure you commit a great deal of time planning your transport to and from the start and finish of each hike, since the Great Walks of New Zealand are not loop tracks. If you access one end of the track with your own car, you can sometimes pay for a car relocation. Make sure you plan for all weathers, as even the summer months can see the occasional snowfall. You'll also have to carry your food for the whole track, as it's not possible to get provisions on the way like it would be in Europe.
Going guided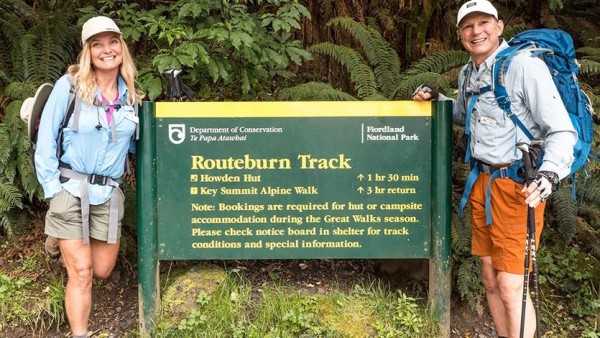 If you're short on time, or you don't want to bother with the logistics, you can do any of these Great Walks with a small group tour. We've been taking small groups of keen adventurers (just like you!) into the most wild and remote parts of New Zealand, so we'll make sure you're adequately prepared for every hike, keep you safe, have a lot of fun and take all the hard work out of organizing your journey. We'll take care of all your food, accommodation, hiking permits, transport and all the nitty-gritty - so you have more time to enjoy your surroundings and forge friendships with your travel companions.
We have a few options for you if you would like to see sections of the Great Walks, but don't have time to hike them in full because you want to make the most of your New Zealand trip:
You can hike the Tongariro Crossing as part of our 5 or 11 days 'Kauri' trip.
You can experience a broader diversity of Fiordland's rugged landscapes by hiking the absolute best sections of a handful of Great Walks on the South Island - this type of trip is called a Great Walks Discovery.
You can hike the full Milford Track as part of our 14-day 'Manuka' trip, as well as exploring some of the South Island's iconic locations like Franz Josef and Mt Cook National Park.