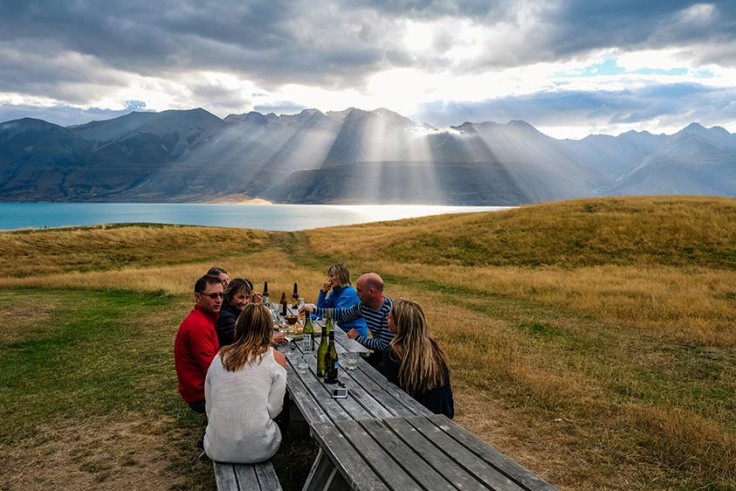 The food of a country - like its language - gives the traveller a unique insight into the heart of its culture. What typifies Kiwi cuisine is the simple treatment of fresh, local ingredients, preferably shared with friends outdoors.
A big part of Active trips is the food. In fact, some would say it is a HUGE part of our trips! Actually, some people have enjoyed our New Zealand food so much they have been known to go home with a slightly larger midriff than when they arrived, despite the daily exercise! Active guides have been churning out great meals, on and off the road, since the mid 90's and they take the job of keeping you well fed and energized very seriously.
We don't really have a distinctive local cuisine or style of cooking in New Zealand, except to say New Zealand cuisine draws on styles from around the world and is typically an unfussy treatment of fresh and often unique local ingredients.

New Zealand Lamb
A generation ago, Kiwis liked to say there were 3 million people and 70 million sheep in New Zealand. These days, the human population has increased to 5 million and sheep numbers have almost halved, but there are still on average about 10 sheep per person in New Zealand! Lamb, therefore, is a favourite even if Sunday roasts are no longer as much of a weekly family tradition – although every Kiwi family would still have a carefully guarded recipe tucked away somewhere.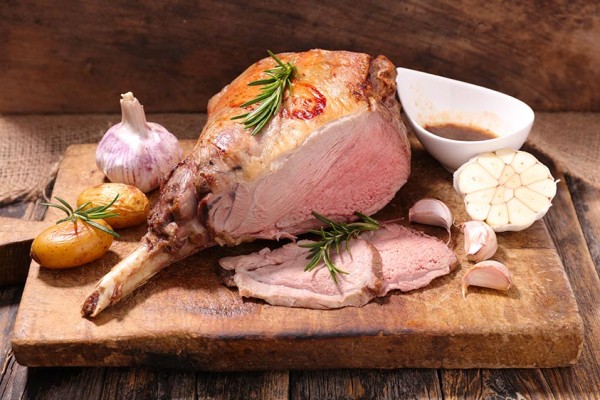 Here at Active New Zealand, we are no different. We constantly get asked for our recipes over the years, but by far, our most sought after one is our "secret" Lamb Roast Recipe. Each guide has "their" recipe, but I thought I would share one of our favourites with you. Just this once!
Shawn's Lamb Roast Recipe
Serves about 10
1.5 kg (3.3 lbs) Leg of Lamb on the Bone
Mint Sauce
10 cloves of Garlic
Fresh Rosemary Leaves
Lemon rind
Salt and Pepper
Vegetables: Potatoes, kumara (New Zealand sweet potato), parsnip, onions, pumpkin.
- Preheat oven to 200°C.
- Trim peel and generally prepare the vegetables - keep pieces of root vegetables uniform size, potatoes, kumara etc.
- Remove skin from lamb, leaving a thin layer of fat.
- Peel garlic cloves and chop finely along with the rosemary and lemon rind, then squeeze in juice. In a small bowl, combine rosemary, garlic, lemon, and then mix.
- Cut shallow slashes in lamb fat and rub mixture into the meat – don't be shy, use your hands and get stuck in! Slice onions thinly and then layer on bottom of the roasting pan. Place meat on the onions, then place vegetables around the meat. Season the meat and vegetables with salt and pepper generously.
- In a small pot, melt or reduce mint sauce until a pourable consistency.
- Roast in the oven for 1 hour 20 minutes. Meanwhile, baste meat with mint sauce every 15 min
- The lamb is cooked when the juices that run out of the meat when pierced with a skewer are faintly pink or the internal temp is approx. 60 degrees Celsius (140 degrees Fahrenheit)
- Rest the lamb out of oven at least 10 minutes before carving.
That's it! Simple eh! Slice meat thinly and serve with generous helpings of roasted veges and potatoes, inject plenty of laughs and stories and you have a perfect ACTIVE New Zealand meal! If this does sound hard, then let our guides do it for you in New Zealand.
New Zealand Venison
New Zealand venison is one of the healthiest – and most delicious – red meats you can eat and top chefs are now featuring New Zealand venison on the menus of some of the world's finest restaurants. With no natural predators, besides hunters, wild deer populations in New Zealand have reached almost destructive levels in the native forests and hunters are encouraged to help themselves, so venison can be found on the dinner table year round. Wild venison is extremely low in fat (when was the last time you saw a pudgy deer?) and naturally free range and organic. Deer have recently been farmed in New Zealand for its meat, and the industry prides itself in exporting free range venison, raised in wide open pastures, that features a slightly less gamey taste than its wild counterparts.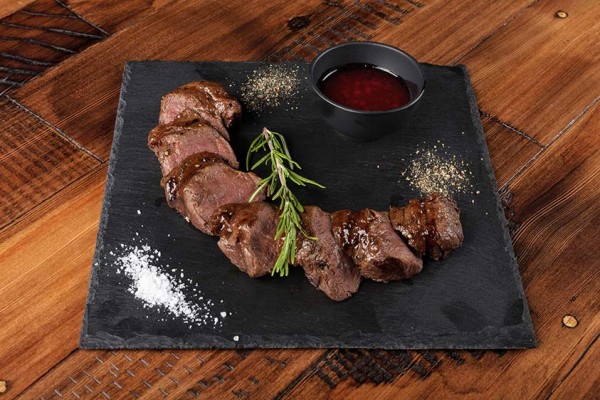 How to Prepare Venison
Venison, whether farmed or wild, is naturally very lean so needs to be prepared with care to avoid turning it into a tough, dry tyre.
For prime cuts, like back steaks (also known as back strap), all you need to do is butterfly chops, season with salt and pepper, and add some chopped fresh herbs (sage, rosemary, thyme, etc.) if you're feeling posh and sear quickly on the BBQ. The classic flavour pairing with venison is berries (cranberry and blueberry work well) and dried juniper berries, which is what gin is made from, if you want to serve a sauce on the side.
For all other cuts, a venison casserole makes a filling winter meal. In a slow cooker, combine chunks of venison, small chunks of onion and carrot that have been lightly sautéed, cranberry sauce or chutney (preferably one of NZ artisan made Provisions chutneys), a generous swig of red wine and quality beef stock to cover. Throw in some fresh herbs and dried juniper berries if you have it. Let that cook on a low temperature for at least 5 hours for a hearty stew.
Venison is also delicious as Bambi burgers, sausages (often mixed with mutton or pork fat), or in a gourmet meat pie
New Zealand Paua
New Zealanders may take it for granted sometimes, but one of the reasons New Zealand is a foodie's paradise is that in many parts of the country anyone can still go down to the beach and collect fresh seafood. Paua (the Maori word for abalone) is a popular delicacy, especially because the sale of wild Paua is prohibited and recreational free divers are limited to collecting 10 per day, strictly without the use of scuba equipment (that's cheating). Nothing like working up an appetite by free-diving! Sadly, undersized Pauas are often poached and smuggled out to be sold on the lucrative international black market. Its colourful iridescent shells can often be found polished up in gift shops or made into jewellery.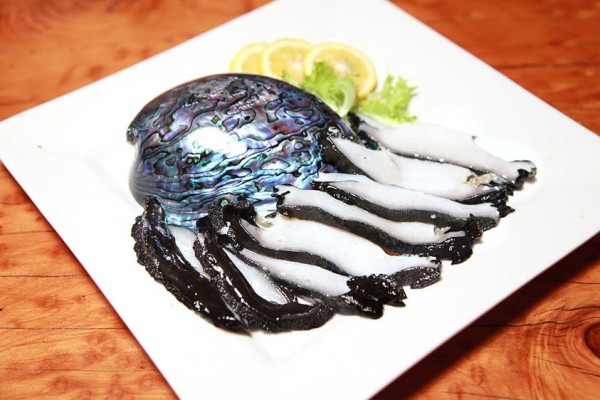 Photo by Pauaco.co.nz/
How to Prepare Paua
Once you've pulled and tugged it out of its shell, you'll want to rest it for about 24 hours in a cool spot. Then the most popular way to prepare it is either to mince it make it into fritters, or bash it (with a meat tenderizer or the side of a hammer) and slice it as thinly as possible. For the latter, sauté onions, garlic and ginger until soft and fragrant and set aside. Then in a very hot pan with a bit of oil, sear the paua slices very briefly and add the onion mixture back in along with a dollop of sweet chilli sauce. If you're brave and confident that the paua is absolutely fresh, you can slice and eat as sashimi, along with a side of soy sauce and wasabi – yum!