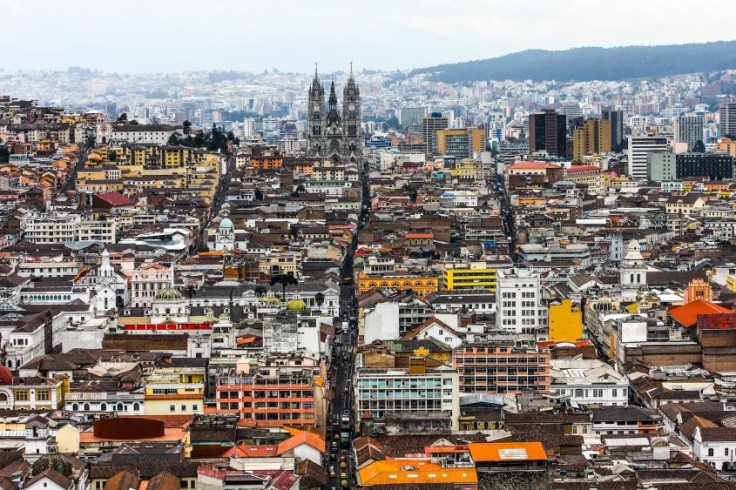 If you're planning an Ecuador holiday, you'll be visiting the smallest country in the rugged Andean highlands and one of the most rewarding travel destinations in South America. Ecuador travel is full of surprises - with its array of vibrant indigenous cultures, well preserved colonial architecture, otherworldly volcanic landscapes and dense rainforest, Ecuador packs its perimeters with more points of interest than many countries twice its size. When you touch down in its picture-perfect capital, Quito, at the start of your Ecuador trip, you are no more than a day's drive from a slog through all-swallowing Amazonian jungle, a snow swept ascent of an active volcano, a sociable haggle with indigenous artesanos or a welcome wallow on a tropical beach. And all that in a nation no bigger than the US state of Nevada.

Brief History of Ecuador
A rich and diverse mosaic of ancient cultures is the foundation of Ecuador's national identity today. Archaeological facts have been found in the area dating back to 10,000 BC, and many cultures are thought to have evolved here between 500 BC and 500 AD. The Incas captured Quito in 1492 but the centre of the Inca Empire in Cuzco, Peru and Quito, Ecuador, would soon be divided again when civil war breaks out. Until Pizarro, one of the Spanish invaders, took over Quito in 1534 and Ecuador remained under Spanish rule for almost 300 years.
The indigenous people became slaves to Spanish landowners and this feudal system largely survived until land reforms in 1964. Ecuadorian independence was won in several stages beginning in 1809. By the late 1800s, the Radical Liberals reduced the power of the church - one of the strong legacies of Spanish rule - in an effort to modernize Ecuador. After a long period of political instability, Ecuador entered another period of economic expansion based on banana export. Military rule followed and finally Ecuador returned to democracy in 1979. Also during the 70s, Ecuador transformed from an essentially agricultural economy to a predominantly petroleum-based economy.
Ecuador Facts
Full country name: Republic of Ecuador
Area: 283,520 sq km (175,780 sq mi)
Population: 12,920,092 (growth rate: 2.1%)
Capital city: Quito (pop 1.5 million)
People: 40% mestizo, 40% Indian, 15% Spanish descent, 5% African descent
Language: Spanish, Quechua, Quichua, other indigenous languages
Religion: Over 90% Roman Catholic, small minority of other Christian denominations
Government: Democracy
GDP per head: US$4,800
Major industries: Oil, bananas, shrimp, fish, coffee, textiles, metal work, paper products, wood products, chemicals, plastics, fishing, lumber
Major trading partners: US, South America, EU, Asia, Caribbean
Where to explore in Ecuador's Capital City, Qutio
The Capital City of Ecuador - Quito is about 9,200 feet above sea level, it has wonderful spring-like climate, despite the fact that it is only 22 km south of the equator. Quito is nestled in a valley flanked by magestic mountains and on a clear day, several snow-capped volcanoes are visible from the capital.
Historic Quito, a world-heritage city
As well as being in a beautiful location, it is rich in history and much of the old colonial town is well preserved, the buildings are unchanged and to walk down colonial Quito's streets late at night is to step into bygone eras. There are no modern buildings discordantly built next to centuries-old architecture, and no flashing neon signs to disrupt the ambiance of the past. Quito nestles a rich treasury of religious and decorative architecture and arts. Churches whose interiors shine of gold, heavy wooden doors with inserted grilles, red-tile-roofs, whitewashed walls, fountain courtyards offer a glimpse of 16th century life.
Modern Quito
To the north is Modern Quito, the new town with its major businesses, airline offices, embassies, shopping centers and banks. The best bars and restaurants are found here. Avenida Amazonas is the best-known street, though Avenida 10 de Agosto and Avenida 6 de Diciembre are the most important thoroughfares. The Chiva Don Otto would be a great way to experience downtown Quito at night. And a City tour during the day. Quito is a city for walkers who want to savor its charm.
Dining: Restaurants in Quito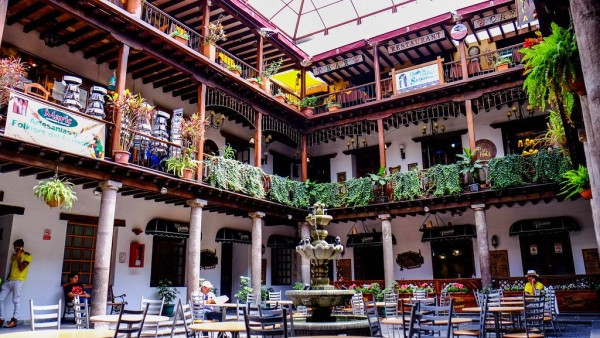 Quito has a wide variety of restaurants. The best restaurants in Quito are located outside of the tourist area. However, the tourist area around Amazonas and Colon has increasingly started to offer quality food, especially lunches, at very reasonable prices. The top restaurants in Quito are located about a 10 to 15-minute walk from the La Mariscal area and offer international food. Restaurants in Quito include:
Japanese restaurants: Sake (Paul Rivet y Whimper), and Tanoshii (in hotel Oro Verde).
Mediterranean food: the excellent La Viña (Isabela La Catolica and Cordero).
French restaurants: Rincón de Francia (Roca and 9 de Octubre).
Italian restaurants: Spaghetti (Cinemark or Portugal and Eloy Alfaro), Pavarotti (12 de Octubre and Salazar) or Portofino (hotel Colon).
Chinese restaurant: Magico Oriental at 18 de Septiembre and 9 de Octubre.
Seafood restaurant: Barlovento at 12 de Octubre and Orellana, San Telmo at Portugal and 6 de Diciembre for excellent beef and La Choza at 12 de Octubre for great Ecuadorian food.
Modern City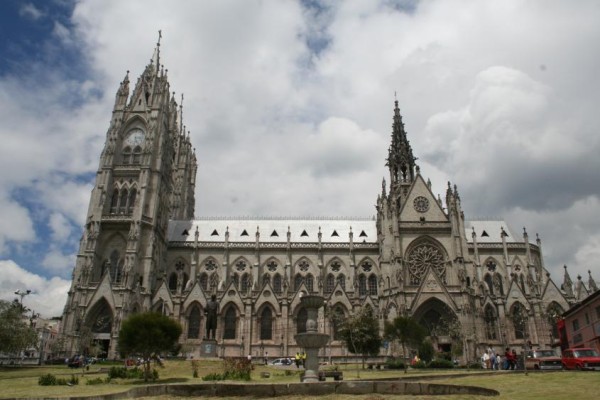 Modern Quito is a city of two halves, Old and New. The Old City remains much the same as it did at the end of the colonial period but the New City bears no marks whatsoever of its colonial past. While the New City does not benefit from the area's brilliant history, it shines in its own right. New Quito, with its gleaming office buildings and bustling crowds of business people, is leading Ecuador into the twenty first century. Take the time to explore both "Cities", neither will disappoint you.
Old Town
See the historic sites of Quito's Old Town and the City's dozens of museums; visit its hundreds of shops, cafes, and restaurants or simply soak up the atmosphere. If you haven't seen Quito, you haven't seen Ecuador!
La Plaza de la Independencia lies in the center of the Old City. The towering Cathedral that dominates the Plaza is a must, it is stunning - and it houses the body of independence leader Antonio Jose de Sucre.
Immediately South of the Plaza is El Sagrario, another noteworthy Cathedral, and a block to the west is El Palacio de Gobierno, a fine example of colonial architecture. Further west of the Plaza de la Independencia is the Plaza de San Francisco, which contains a beautiful church and monastery, as well as a museum.
South of the Plaza de San Francisco lies Cerro Panecillo, a 180 metre hill topped by a statue of the Virgin of Quito. The views from the top of the Panecillo are breathtaking. Quito also has much to offer outside of the Old City. The beautiful Guápulo neighbourhood, the parks La Carolina and Metropolitano, and great museums in the old town and the modern center.
Museums (old town)
Museo de Arte Colonial - this museum houses what many consider to be Ecuadors best collection of colonial art from the 16th to 18th centuries. There is also a collection of period furniture.
Casa de Benalcazar - This building dates from 1534 and was restored by Spain in 1967. Classical piano recitals are held here. It's well worth the visit.
Museo de la Ciudad - dating from 1563, this beautifully restored building houses great exhibits depict daily life in Quito through the centuries.
Museums (new town)
Casa de la Cultura Ecuatoriana - this large circular glass building houses a wide collection of contemporary Ecuadorian work and 19th century pieces. There is also a movie theatre that shows international movies and an auditorium where classical and other kinds of music are performed.
Museo Amazonico - This museum has a display of Indian artifacts collected by missionaries in the Amazon jungle.
Fundacion Sinchi Sacha - This nonprofit organization exhibits the artwork and utensils of the peoples of the Oriente; in addition, it supports Amazonian cultures and publishes a variety of literature about the rainforest and its peoples. (Sinchi Sacha is Quichua for 'powerful forest.')